5
mins read
Year ends are a time for contemplation and gratitude. It is a time filled with hope as we look into the future with renewed energy and resolve.
At Intelematics, 2019 has been a remarkable year at so many levels, looking back we had several aha moments to celebrate;
Celebrated 20th anniversary of Intelematics
In 1999, Intelematics was born with the aim to provide connected vehicle solutions to the Australian and New Zealand markets, combining intelligence with telematics and a vision to be bold and challenge the way we look at cars and mobility.
This year we celebrated 20 years of living that dream, providing connected vehicle services that enhance mobility, convenience and peace of mind. Today our products use mobility data and predictive analytics to achieve a single goal: keeping people moving by making transportation smarter, safer and more convenient for everyone.
Intelligent transport pioneer Brian Smith awarded lifetime achievement
2019 will be proudly remembered by us for, Intelematics veteran Brian Smith's accomplishments. Last month Brian was recognised for his integral role in the advancement of Australian navigation technology and awarded the highest accolade by Intelligent Transport Systems (ITS), the Max Lay Lifetime Achievement Award.
Brian has had a distinguished career – in 1995, he played a leading role in developing the first digital navigation map in Australia. In 2000 Brian led the development of technology that combined mapping data with telephone directory data — enabling commuters to search for specific locations like the nearest café or petrol station, which is still a popular function today.
Intelematics' Chief Executive Officer, Rod Chapman, says "Brian's contributions throughout his 14 years at Intelematics have been industry-leading. Today, thanks him, Intelematics uses the SUNA Traffic Channel to provide traffic congestion and incident information to more than 4 million Australian and 2.5 million New Zealand drivers, plus an even greater number who access the information via a web browser or smartphone application."
Investing in and partnering with Euclidic Systems
Earlier this year Intelematics entered into a strategic partnership with Euclidic Systems, who currently rely on embedded devices to track and monitor heavy and light vehicle fleets – both on road and off road – and conduct remote fleet management operations. The new relationship incorporates Intelematics solution for mixed fleet management. Euclidic Systems' customers now have access to a simple, easy to use, a self-install plug-in device which allows them to manage all of the vehicles in their fleets from a single platform, ensuring fleet managers capture vehicle health, driver behaviour and location data in real-time so that fleet productivity can be maximised. We believe this partnership reflects the transformation of the fleet management industry, making tracking and monitoring of commercial and passenger vehicle fleets simpler.
New Intelematics Website
In the lead up to the launch of our self-serve platform in 2020, be it for our mobility data or our connected vehicle products, we have been revamping our website. Experimenting, discovering and learning on the go, allowing data and our customers to guide us in putting together a compelling and user-friendly platform. It is a work-in-progress project that promises to keep us on our toes in the coming year too.
Enabling Intelematics mobility data visualisation
2019 also saw the launch of our data visualisation microsite, designed to provide unique insights into the mass movement of people and vehicles and to showcase our data capabilities.
The Intelematics', data visualisation microsite, allows policymakers, urban planners, analysts, economists, and journalists to play around by visualising and overlaying traffic flow, incident, weather and IoT data.
With location and development decisions heavily influenced by transportation, the site allows for the dynamics between transport and the economy to be better understood.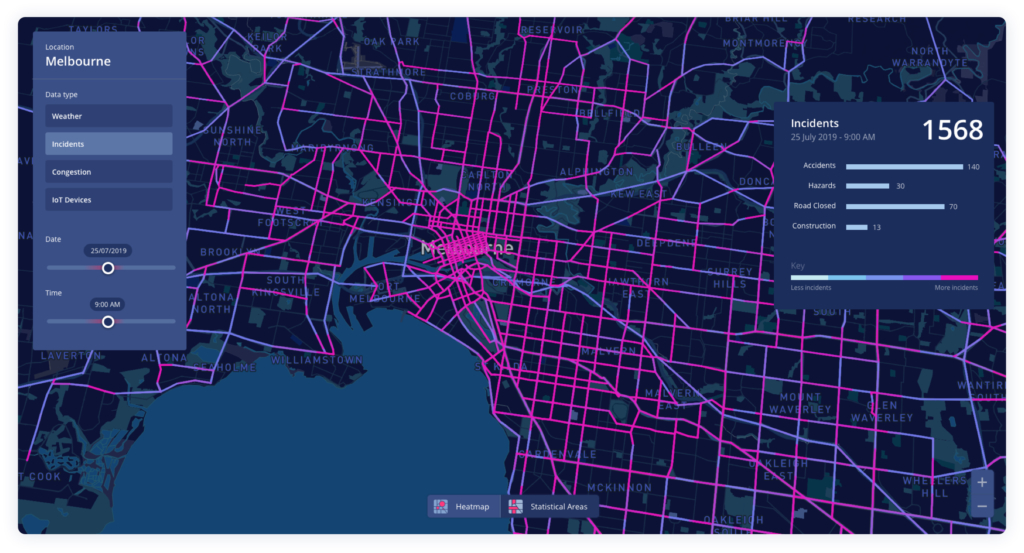 Making our data easy to understand
There is data everywhere. Everyone is collecting data, from your smartphone to your smartwatch. Most of this data becomes invaluable when it can be used to derive information and insights. Data presentation is a significant factor in making data useful. Our Data and Content team achieved this delicate balance in 2019. They ensured that Intelematics' mobility data is available to our users in a format that is easy to read and use – down to the street names. Which means if you decided to download our sample data, you would be sent an excel data sheet with real traffic flow or incident data down to the street level, based on your request.
 Published the Australian Traffic Flow Report
As speed limits are a regular point of discussion, we decided to find out just how fast Australians are travelling. Our 2019 traffic flow report surprised many. Intelematics' main finding was that most Australians, on average, drive under the speed limit at a national level. However, the amount we drive under each speed limit category varies. The discrepancy was put down to numerous factors, including congestion and the type of road environment.
Tech modernisation for Innovation
Over the past year, Intelematics has been doing the groundwork in positioning our technology systems and platforms for the rapid development cycles demanded by modern innovation practices. To do this Intelematics' has greatly leveraged Amazon Web Services (AWS) cloud platform. Earlier this month our teams completed the migration of all major customer-facing platforms/systems to the cloud. With the recent move to the cloud, our ability to service clients needs has greatly improved.
Innovating faster in an agile environment is a business goal we take seriously, which is why encouraging and supporting our staff to prepare for this tech transformation was a significant part of this journey. As a result, our staff achieved over 50 new AWS certifications this year, increasing our cloud knowledge and skills across the organisation as a whole.
As we wrap-up 2019, we feel ready to take on the challenges and the opportunities 2020 promises. It is going to be a milestone year for us, and we can't wait to live another chapter of this memorable journey.