Software keeping staff off the road and out of harm's way
Move beyond any mobility problem your business, city or council is facing with accurate, high-resolution data for over 2,000 Australian suburbs.
Traffic trends and human movement is continually changing, and this can adversely affect your business and your community. At Intelematics, we assist you in making sense of road safety, traffic management, and land-use issues by providing a comprehensive view of traffic and how it impacts the road network and surrounding communities.
Use Intelematics INSIGHT to solve traffic growth and background trend concerns, analyse increased noise pollution, road closure impacts, land-use assessments and much more.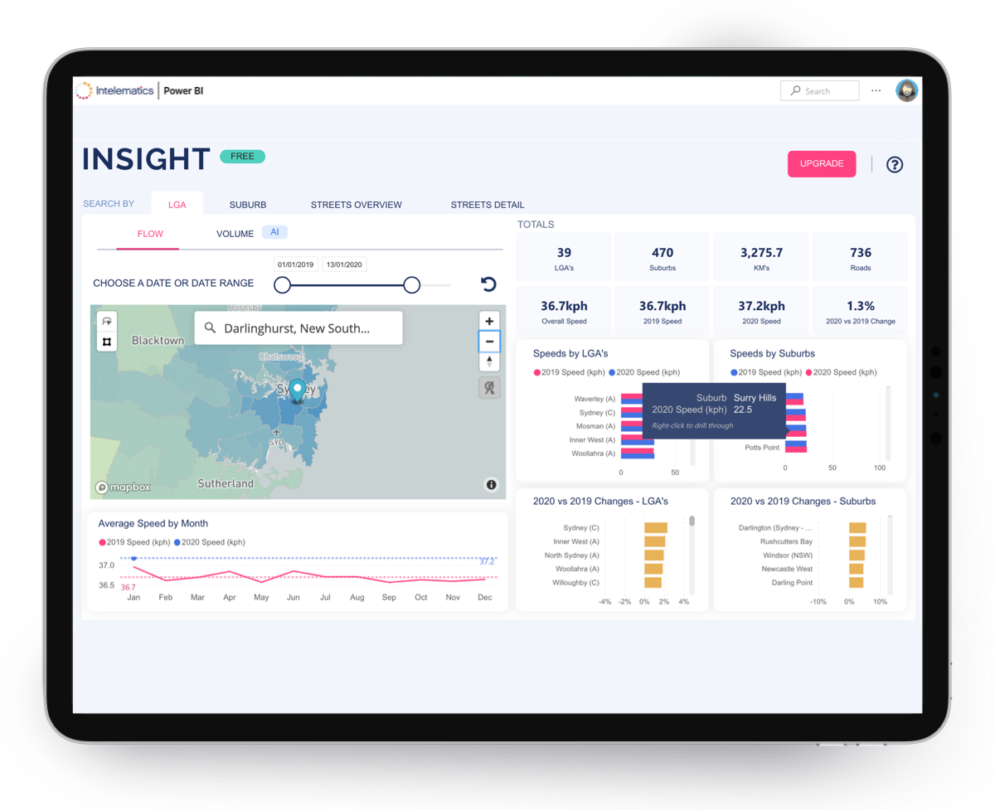 What makes INSIGHT unique?
A comparison of road traffic analysis methods. Which one is right for your project?
Traditional traffic surveying methods
Months for approval, data collection, and analysis
Data requires cleaning and shaping to be of use
Staff in harm's way at busy intersections
Poor accounting for seasonal traffic
Intelematics road and traffic INSIGHTs
Available on-demand, any time, any place
Visualise already formatted traffic trends in seconds
An analysis of all sites, all at once
100% safe alternative – 100% online
All days, months, and seasons at your disposal
Intelematics is unique in that it provides precise data thanks to its millions of traffic sensors. It has unrivalled experience in capturing and providing traffic data through 20 years of investment in research and development. We trust that the data we get from Intelematics is the most up to date and has been obtained adhering to the most stringent privacy and protection guidelines.