5
mins read
User experience design for IoT devices is new and complex. When designing an IoT device, you can't just preempt and plan for the actions or paths a person will take – but you are also required to facilitate the integration of the device into that person's life. 
Out of all the aspects of product or application design, there is none more important than user experience. Testing the end user's experience in the design phase allows you to mitigate a range of risks, both functional and aesthetic, and a product or application should never go to the market without it.
What is user experience?
User experience (or UX) is defined as, "every aspect of a person's interaction with a product, service or company that makes up their perception of the whole". UX is important because it aims to fulfil the needs of the user of your product, and it ensures they have a positive experience that keeps them loyal to your product and brand.
Product teams all over the world have different strategies to test user experience – and while it is business as usual to meet user expectations, to go above and beyond these standard expectations is what creates a loyal customer base.
How to test user experience
User experience has always been a critical element of software and website design. It is quite straightforward in this context, as the possible paths an individual takes on a website, for example, are far more predictable than what they might be with a product such as an IoT device.
User experience design for IoT devices is new and complex. When designing an IoT device, you can't just preempt and plan for the actions or paths a person will take – but you are also required to facilitate the integration of the device into that person's life. Especially when you are required to interact with the device to get the most out of it.
Take devices such as Google Home, a smart TV or a smart air conditioner. These IoT devices all allow people to interact with them via voice commands or a mobile or web application. Such devices must understand various languages and accents if they are voice-controlled while ensuring the user feels at home with the product, by making it simple to use, relatively self-explanatory and effortlessly fusing itself into the product owner's life.
Vehicle-related IoT devices
Then there are IoT devices designed purely to send data related to a user's behaviour or the behaviour or performance of the machine in question that doesn't require day to day interaction, such as a vehicle telematics device. When connected to a vehicle, a telematics device sends vital information about the vehicle's health; it's GPS location and route history to a centralised data management platform. The accuracy of this data is essential from a user experience perspective because businesses utilise and analyse this data to inform their business decisions and optimise their business performance.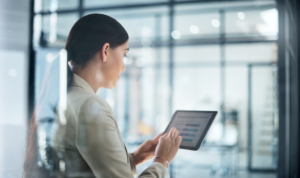 A user experience case study
A small-business owner purchased a telematics device for each of his four delivery vans because he wished to know;
the real-time health of his fleet's engines,
what each vehicles' odometer reading was at the end of each day,
how much fuel was being consumed,
and how safe his staff's driving habits were.
Along with him having a 360-degree view of his fleet, each of his drivers could download a mobile app that provided them with the same information for the specific vehicle they drove. This way, they could personally monitor and manage their own driving habits and route history to improve their overall eco-score.
One morning, one of the driver's vans had a low battery alert. Usually, in this circumstance, the driver would have to tell the business owner, but it is often too late by that stage because the van's battery is already flat. However, because of the telematics device and it's predictive IoT technology, the van driver and the business owner had already received a low battery alert days before the failure. Therefore, they weren't surprised when they received the alert and the van was already booked in for a replacement battery that afternoon. This predictive technology gave the business owner ample time to book the van in for a service outside of the driver's working hours ensuring his deliveries remained unhindered and on schedule.
The limits of traditional methods of testing
IoT device testing for the above case can be performed on simulators and in cars during drive tests. However, given there are around 1,700 different car models and 75 different car manufacturers around the world, it is neither economically nor practically feasible to test all cars for each firmware version.
Even if you'd want to test on only the ten most common cars, it'd be a very costly exercise. It would appear that traditional methods have their limits in terms of coverage for fully functional UX testing. The answer: machine learning and user group testing.
An internal trial group to test user experience
If the IoT device being tested is a device for individual consumers – running a trial group of employees within your company could be helpful. The members of this trial group could provide regular feedback on the data and their experience. This would ensure good testing coverage both for functional and UX testing.
This process has multiple benefits:
You'll receive real-time feedback from real people using the device
Based on their individual experience the group can provide useful feature suggestions that'd make the product even more attractive and useful
Employees feel more involved with the product's development process as they are part of the development process and can influence the quality of the output.
The data received from the devices is real and will help in testing its accuracy.
It's a win-win for both the company and its employees – the company gets to design, test and build a better quality product and the employees get to assist in the shaping of a new product.
At Intelematics, collaboration, integrity, accountability, excellence and opportunity, are valued. The whole company collaborates to build products that we are proud of and that provide safety, security and peace of mind to the end-user.