5
mins read
Word in Santa's circle suggests that Santa didn't have his best year in 2018! 2019 is going to be different. Santa has found the perfect solution to ensure his fleet stays safe, on track and delivers cheer on time.
Christmas is almost here. For most of us, this is a time to relax, to unwind and build some happy memories to keep us going through the daily humdrum of life for the rest of the year. That is if you are not a resident of the North Pole. Up there this is – 'crazy season.'
So much ground to be covered, so many little people around the world to be rewarded for their year-round good behaviour. Millions of gifts on millions of wish lists sent to Santa, to be delivered right. And all this has to be achieved in just 24 hours.
Word in Santa's circle suggests that Santa didn't have his best year in 2018, and while he managed to deliver presents to children all around the world in the St Nick of time – his fleet was left worn and torn and spent the first six months of the year being worked on by elves in Santa's workshop. In fact, it took them weeks to track down Rudolf and Dash after the two lost their way while travelling through the Great Victoria Desert on Christmas day.
Following which, earlier this year Santa had a 2018 performance review meeting, with his team. In this meeting, they found some nagging issues that affected their performance and needed immediate attention. Lack of real-time traffic data to help navigate the delivery routes more efficiently; a single dashboard to track Santa's fleet and all their locations for optimised resource allocation and on-time deliveries, and the safety of their fleet in case of emergencies topped this list.
There's a reason that Santa has been struggling in recent years – with the population boom in down under, there is more traffic, and congestion than any of our transportation systems or city infrastructure was designed for. Add to that the unpredictable weather, poor Santa and his crew has to work harder than ever to cover the same distance.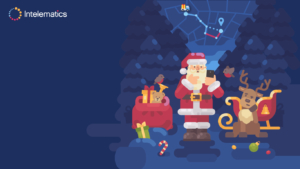 Staying connected
In October this year, when we at Intelematics saw a St. Nicholas from the North Pole come in as one of our leads, it was a bit hard for the marketing and sales team to believe it was a genuine enquiry. A quick call with Santa himself, and we knew that we were the perfect people to resolve his concerns and provide him with the perfect traffic navigation and fleet management solution. Our products leverage mobility data and predictive analytics to achieve a single goal: making transportation smarter, safer and more useful for everyone – and that includes Santa.
In a matter of days, Intelematics' CONNECT devices were shipped off to Santa, and his elves quickly plugged them into the entire fleet of sleighs.
Our  CONNECT  solution – is designed to help fleet owners track the location of their vehicles in real-time, monitor vehicle health data, predict vehicle breakdowns, monitor driver safety and behaviour and offer diagnostic troubleshooting.
Armed with CONNECT, now Santa's team at the North Pole could track the location and path of each of their assets, live. Santa and his driver elves on the move could look at the CONNECT mobile app to see how well they were driving and keep track of any wear and tear to their rides.
Staying informed
As part of the digital transformation of Santa's fleet, his custom navigation mobile app, created to help Santa and his fleet managers plan routing of their delivery locations, required an upgrade too. Intelematics' traffic flow, traffic incidents, weather and parking APIs were integrated into the navigation app, to ensure his team had real-time updates on traffic, weather, congestion and incidents on route. This live data which Intelematics collects from thousands of sensors located on roads, in vehicles and infrastructure, ensured Santa's fleet had access to updated information to reroute their travel to the fastest and safest route if required.
Staying secure
In addition, to upgrading his fleet's performance to meet the crazy demands of the Christmas season, the safety of his fleet drivers – the super busy elves and their team of reindeers was a major concern for Santa. Covering so much ground in such a short time can create unwanted emergencies like sleigh breakdowns, cracking hooves or crashes that can affect the health and safety of his team. Santa wanted to make sure his fleet drivers had the right help available at the right time. Which meant, depending on their emergency, emergency roadside assistance, be it an ambulance or tow truck would reach his drivers within minutes of an incident.
To enable, automatic crash notification for Santa's fleet, the Intelematics ASURE feature was added to our CONNECT offering.
ASURE delivers 24/7 automated incident detection, breakdown assistance and stolen asset tracking. It is a modern and intuitive emergency communication platform that informs call centre agents and operations teams in case of an emergency like a crash, vehicle theft, or breakdown. ASURE provides its call centre agents with information on the location of the vehicle and the type of emergency so that they can send the right kind of emergency service to assist the driver within seconds of an incident.
Now, Santa and his fleet can be confident in the knowledge that they're supported by Intelematics' 24/7 emergency assistance and response anywhere during their travels.
Since our establishment in 1999, we've earned the trust of some of the world's most trusted brands. Now we're proud to be working with the most loved and sought-after person in the world, Santa Claus himself.
At Intelematics, we are excited to be the ones keeping Santa informed, secure and connected this Christmas — keeping the magic alive as his fleet performs at its optimum best and has a much smoother journey navigating through the starry night this year.