LOCAL COUNCILS
Traffic analysis software to validate your vision
Undertake a road traffic analysis with easy-to-use software to get your strategic plans, funding schemes and road safety projects over the line, in minutes – not weeks.
Why we deliver traffic insights to local councils
A safer alternative to pneumatic tubes

Accurate, high-resolution road traffic data keeps your on-site team off the roads and out of harm's way. It's the safe alternative.

Easily visualise background growth

Plotting trends, growth patterns and land-use changes with incomplete data sets? Use four-years of daily road traffic insights to nail your next analysis.

Validate constituent road safety concerns

Use historical data to pinpoint traffic incidents, traffic queues, speed and congestion hotspots, to support your road safety projects.

Visualise everything

We've done the heavy lifting by collecting, collating and validating four years of road traffic data so you can visualise any road or intersection in a matter of minutes.

Get data that's relevant to your council

Be it road traffic data around major development sites or the speed and congestion data between intersections, get insights on things that matter to your council residents and projects.
Visualise your councils' road network and validate constituent concerns at the click of a button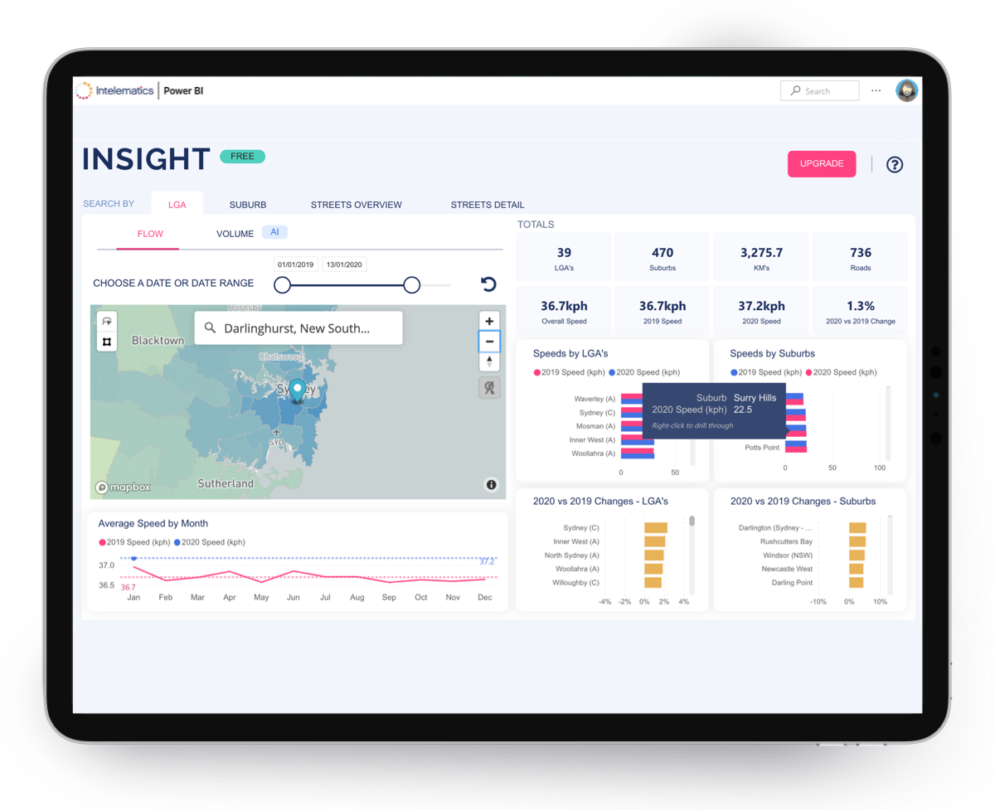 What makes INSIGHT unique?
A comparison of road traffic analysis methods. Which one is right for your project?
Traditional traffic surveying methods
Months for approval, data collection, and analysis
Data requires cleaning and shaping to be of use
Staff in harm's way at busy intersections
Poor accounting for seasonal traffic
Intelematics road and traffic INSIGHTs
Available on-demand, any time, any place
Visualise already formatted traffic trends in seconds
An analysis of all sites, all at once
100% safe alternative – 100% online
All days, months, and seasons at your disposal
Supporting Australian councils
and their constituents