For most drivers, driving technique becomes part of their muscle memory, breaking or changing their driving habits often requires strong motivation.  
Few factors impact a company's fleet costs, as much as driving behaviour. Driving behaviour often misses the optimisation radar of fleet owners and managers. Most people know for a fact that driving economically rather than aggressively can save them money by not only reducing fuel consumption across their fleet but also by minimising the impact of wear and tear on their vehicles, ensuring the safety of the passengers and protecting corporate reputation.
Yet most forget to monitor their fleet operators' driving behaviour behind the wheel.
For most drivers, driving technique becomes part of their muscle memory, breaking or changing their driving habits often requires strong motivation.
What if there was a way to measure how economical your driving is? If there was a tool that will track your driving behaviour and provide you with real-time feedback after every trip?
What if this tool could tell you exactly what habits needed improvement to optimise your fuel consumption and lower the wear and tear of your vehicles.
Enter the eco-score.
What is an eco-score?
Eco-score is a score given to a vehicle driver derived by measuring their driving style.
The score is out of 100 and measured based on the driver's behaviour. It takes into account how hard a driver accelerates and brakes, their speed and how long they spend idling to measure efficiency, both in terms of fuel consumption and potential for increased wear and tear on the vehicle. The eco-score is often a feature built into vehicles which displays on a vehicle's dashboard. It can also be 'retrofitted' in vehicles using a telematics device like Intelematics' CONNECT, a connected vehicle device used to manage and optimise a fleet of vehicles. The CONNECT device converts data from a vehicle into valuable insights, displayed via a smartphone app for drivers and a desktop dashboard for fleet managers.
How does Intelematics measure an eco-score?
While the score is between 0 and 100, a driver starts on a score of 70 for each trip – and the score increases or decreases depending on events of acceleration, braking, speeding and idling. In the case of acceleration, for example, the g-forces that occur during acceleration determine the acceleration event value.
Each event gets an individual score: acceleration, braking, idling and speed, and an overall score is calculated based on the individual scores. (refer to image for app display). A high score requires smooth, even acceleration and deceleration, which means avoiding sudden braking and acceleration.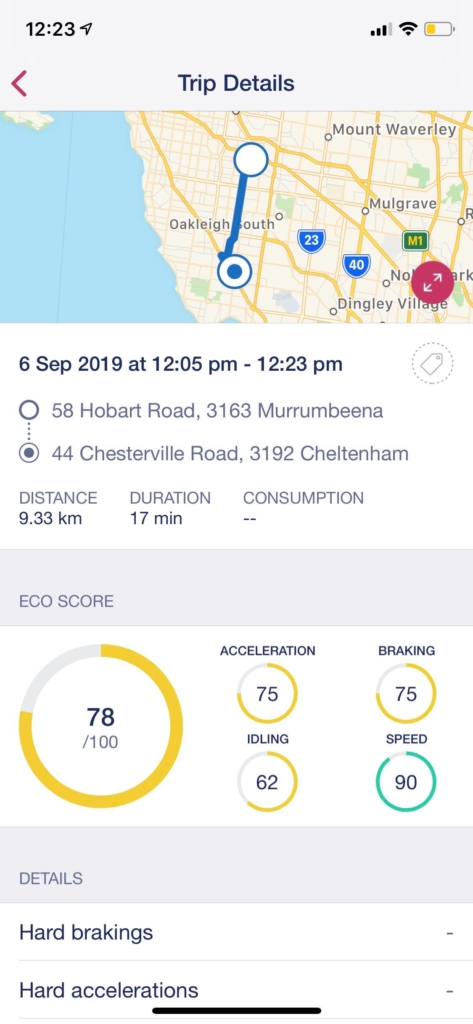 What benefits does an improved eco-score provide?
Improved fuel efficiency
More vehicle uptime due to less wear and tear
Increased safety of the driver and other road users
Lower emission production and a smaller carbon footprint
Increased protection of corporate reputation
How can an eco-score improve driver behaviour?
As a fleet manager, an eco-score can help protect both your drivers and the vehicles in your fleet. Intelematics' CONNECT provides an eco-score to the driver after every trip (via the smartphone app). In addition, a report is sent to the fleet manager, for each driver and each vehicle, enabling discussions and potential additional driver education about the importance of economical driving.
As a driver, being more aware of your eco-score and seeing it improve after each trip encourages better driving habits. The scores can be used to compare between colleagues and departments, thereby encouraging some healthy competition too. Fleet managers can use the eco-score and turn it into a fun exercise for all staff.
Based on individual driving scores, leverage the Intelematics eco-score to reward good driving behaviour, thereby encouraging optimised driving and demonstrating how improvements to driver behaviour can be easily achieved.