As students across the state go back to school this week, Intelematics is urging Melbourne commuters to rethink the times they travel, with traffic congestion levels expected to double on average compared with the holiday period.
SUNATraffic Channel, an advanced digital traffic and motoring information service operated by Intelematics shows that the school holiday period has a very significant influence on traffic congestion. The data, captured through millions of sensors on car GPS units, fleet vehicles, road devices and taxis indicate that once school goes back, Melbourne drivers will return to crippling peak periods not typically seen throughout the school holiday period.
"Travelling during peak periods which is typically defined as AM peak (7.00am – 9.00am) and PM peak (4.00pm – 6.00pm) is inevitable for a lot of people, especially for parents doing the morning or afternoon school run. If drivers can avoid major peak times, they can actually save a considerable amount of time each day," said Intelematics' Chief Operating Officer, Stephen Owens.
About Intelematics
Intelematics delivers the intelligence behind connected services to keep people moving. Since its establishment in 1999, Intelematics has continually been at the forefront of the telematics industry with a presence in Australia, North America and Europe. Intelematics' expertise is delivered via a suite of scalable, multi-tenanted solutions. This includes connected transportation services such as real time insights and predictive services, connected motoring applications on vehicle dashboards and specialist safety and security services.
Intelematics' data, shows that during school holidays, you typically see consistent traffic levels from 7.00am until 6.00pm, without the big spikes Melbournians are used to experiencing at both 8.00am and after 3.00pm.
"Over the last two months, the time drivers choose to travel has had little impact on their commute time. However, with school returning, drivers can expect to see a substantial increase to their commute time if they travel during the morning peak – with some trips set to take twice as long as they would during school holidays," said Owens.
Afternoon peak times also change during school times, with the afternoon peak period starting at 3pm, peaking at 5pm and not dropping until around 7pm. Compare this to school holidays, when the afternoon peak does not start until around 4pm, shortening peak traffic by one hour.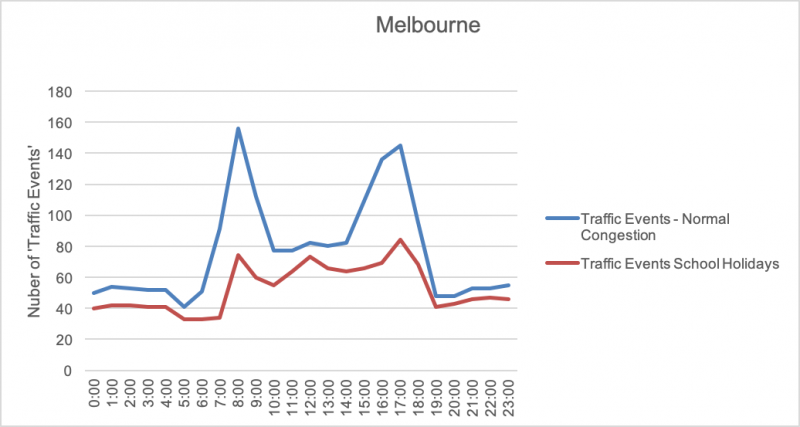 Source: Intelematics' SUNA Traffic Channel
'Traffic events' are defined as any accident, roadworks or high congestion).